All the World's a Stage
A Friendly New Musical by Donna Stearns
Saturday, April 23, 2011. 1:00 PM.
Director: Shana Solomon
Musical Director: Donna Stearns
SM and Asst. Musical Dir.: Kendra MacDevitt
Asst. Musical Producer: Tony Imgrund
New York Public Library, Inwood Branch

Join us for a reading of Donna Stearns' musical farce All the World's a Stage. All music , lyrics and text by Donna Stearns. Freely adapted from Shakespeare's As You Like It, it's a romp of sexual exploration and silliness with a lot of great tunes that you'll be humming for days afterward. And it's all happening on Shakespeare's birthday! Originally produced in 2002 in the Midtown International Theater Festival, the show won "Best of Fest." Click Here to learn more about the 2002 production and the show.
---
Featuring the Talents of...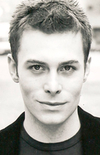 ---
Donna Stearns
: Playwright, Composer, Musical Director and Executive Producer
Shana Solomon
, Director
Kendra MacDevitt
, Stage Manager and Asst. Musical Director
Tony Imgrund
as Orlando and Assistant Musical Producer
Josh Conway
as Lord Number One
Chad Austin
* as Lord Number Two
Monica Bradley
as Celia
Carl Fortunato
as Touchstone
Lela Frechette
* as Duke Senior
Logan James Hall
as Oliver
Perryn Pomatto
* as Duke Frederick
Ashley Rebecca King
as Rosalynde
Natalie Pawelek
as Alex
Giovanni Rho
as Lord Number Three
Brendan Rothman-Hicks
as Jaques
Mitchell Stout
* as Adam, Castrato, Club Kid from Limelight and Catherine Von Tingles
Katie Summerfield
as Phebe
Derin Tolu
as Silvius
Joceyln Vammer
as Eddie
William Shakespeare
as Muse and Birthday Boy

* appears courtesy of Actors' Equity Association
---
MoonBeam.Net productions, in conjunction with the New York Public Library presents Shakespeare Saturdays, A Free Reading Series Celebrating the Diversity of Upper Manhattan.

Executive Producer and Resident Composer: Donna Kendall Stearns

Artistic Director: Jason Kendall
---
Made possible by the generous support of

---
MoonBeam.Net Productions | The Inwood Astronomy Project