Taming of the Shrew
Directed by Kate Konigisor
November 10, 2007
Character Breakdown by Scene and Line Load.
---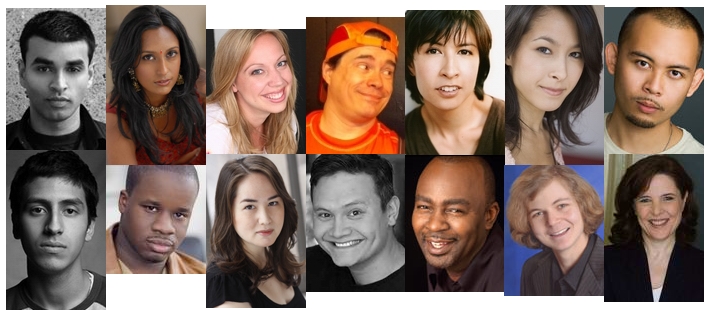 ---
Kesh Baggan
as BAPTISTA, LORD
Monisha Chowdhary
as HORTENSIO
Megan Cooper
as HOSTESS, MESSENGER, PETER, SERVANT, TAILOR, WIDOW
David Thomas Crowe
as CHIRSTOPHER SLY, CURTIS, HABERDASHER, VINCENTIO
Rainbow Dickerson
as KATHERINA, DOG
Margaret Ying Drake
as BIANCA, DOG, PLAYER
Philippe Garcesto
as TRANIO, PLAYER, SERVANT
Carlos Gomez-Marquez
as LUCENTIO, HUNTSMAN
Franz Hewitt
as GREMIO, DOG, PLAYER
Catherine Leong
as BIONDELLO, NICHOLAS, SERVANT
Lawrence Lesher
as PETRUCHIO, PAGE
James McKnight
as NATHANIEL, PEDANT
Brendan Rothman-Hicks
as GRUMIO, HUNTSMAN
Kate Konigisor
, Director
---
Thoughts by Kate to Future Kates
Of course this is the play that makes feminists crazy. And I'm a feminist. But I love this play. I love it because I think the relationship between Kate and Petruchio is so much more complex than just he-dominates-her-and-turns-her-into-the-traditional-submissive wife. If the play is portrayed with only that surface element, it fails on every level.
Is Kate a strong and outspoken woman? You bet. Is Petruchio mercenary and a bit arrogant? Most assuredly. But in their journey together, the whole turns out to be much stronger than the separate parts. Both Kate and Petruchio learn something from one and other that changes who they are at their very core. And each, at the end, is a better and happier person.
This play is a love story. And Kate and Petruchio are one of the great, loving couples of all time. At the end.
I have very definite ideas about how all this comes about. I am looking for actors who are in for the journey of making that clear to an audience.
I need a cast of actors who understand that human relationships are complex and that humans are wonderful and deeply flawed. I need actors who know how to make that believable, interesting, and here's the hard part.... funny.
The main story may be Kate and Petruchio's, but Bianca and Lucentio also offer their questions to be asked and answered. Is the "traditional" woman really more desirable? Will she really make a better wife? Should Lucentio and Hortensio be careful what they wish for?
And while all of the above may be the central questions, one can never forget that the play is a comedy with mistaken identities, disguises, and smart-alecky servants. Every role has its integral place and its moment in the sun.
---
MoonBeam.Net productions, in conjunction with the New York Public Library presents Shakespeare Saturdays, A Free Reading Series Celebrating the Diversity of Upper Manhattan.

Executive Producer and Resident Composer: Donna Kendall Stearns

Artistic Director: Jason Kendall
---
Made possible by the generous support of

---
MoonBeam.Net Productions | The Inwood Astronomy Project