The Uptown Planetarium and Donna Stearns
Present

Minding The Heavens

The Life of Caroline Herschel

by Dr. Mark Littmann

Directed by Jerry Marco
With Original Music and Lyrics Composed by Donna Stearns


October 17, 2009 at 1:00 PM

Centered around Caroline Herschel, one of the most important women in the history of astronomy, this four-person play follows her life and tribulations as she gives up her career as an opera singer to help her brother, William, on his quest to become the greatest astronomer in Europe. While they both succeed at their quest, and she is lauded worldwide for her breakthroughs in science, we see her confront terrible prejudice, and watch her heartbreak as her stardom wanes in her love of singing.

Performed at the New York Public Library, Inwood Branch
4790 Broadway [near Dyckman St.], New York, NY 10034-4916.
Cast for Minding the Heavens

Megan Cooper
as CAROLINE HERSCHEL
Megan Cooper has appeared in Young Jean Lee's Church (The Public's Under the Radar Festival, P.S.122, BAX), The Tempest (Hudson Warehouse), A Little Night Music (Bristol Riverside Theatre) and 12 Women in a Cell (The Arcola Theatre in London). She composed music for and music directed A Strange Serenade (The Player's Theatre Loft). Most recently she appeared in The Good Doctor with Midlantic Theatre Co. and worked with Donna Stearns in Shakespeare Saturday Sings!!! In Concert. She received her Master's in Acting from East 15 Acting School in London. Thanks to Donna, Jason, Jerry and Mark.
Jonah Ramu Cohen
as WILLIAM HERSCHEL
A recent arrival in NYC, for the past six years Jonah directed a youth Shakespeare program outside of Philadelphia. Most recently Jonah has appeared inKing Lear with The Gallery Players in Park Slope and a reading of Pericles with Shakespeare Saturdays here in Inwood. Regional credits include: Antonio in Twelfth Night (Philadelphia Shakespeare Theatre), Gerald in Women in Love (Living End Theatre Company), Caligula in Caligula (Echolalia Theater), Twelfth Night (City Theater Company of Wilmington), As You Like It (Delaware Shakespeare Company).

Everett Goldner
in Ensemble: Elegant Woman, Servant, King George III, Lord Storker and John Herschel
Everett Goldner is an improv performer from the bay area. This summer he stage-managed for Hudson Warehouse The Tempest and Hamlet. He is a martial arts and yoga enthusiast, and a student. Thanks to Donna and Dr. Littmann for this great opportunity!

Alexis Casanovas
in Ensemble and stage directions
Alexis Casanovas has recently relocated to NYC from Columbia, SC where he was teaching Creative Drama and Theater Arts at a public middle school. He is returning to New Perspectives Theatre Company as Company Manager. Alexis started to perform at a very young age dancing and playing Traditional Folk music of Argentina. He received his MFA in acting from Mason Gross School of the Arts at Rutgers University with William Esper as head of the acting program and a B.A. from the College of Charleston, SC. His recent credits include the Duke of Buckingham in The Three Musketeers with the Bard Columbia Shakespeare Company and a guest appearance on Guiding Light. Among his NPT roles are Ex in the New York Premiere of Visit by world renowned playwright Ricardo Monti, Macbeth in Macbeth, and Mercutio in Romeo and Juliet in New York's Shakespeare in the Park Festival. He has also been involved in numerous youth outreach programs and performances.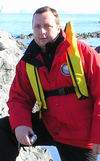 Jerry Marco, Director
Jerry Marco's New York directing credits include Much Ado About Nothing, The Dentist (written by Jason Kendall!), and readings of Henry VI parts 1, 2, and 3, and Richard 3. He holds an MFA in Theatre from the University of Texas.
Donna Stearns, Executive Producer
Donna Stearns (Composer) studied Jazz Arranging at Eastman School of Music and graduated from Florida State University with degrees in Music Theory and Music Composition. She received three ASCAP Pop Awards and her debut release FIRST DANCE received an Honorable Mention from the 9th Annual Billboard Song Contest. FIRST DANCE, recorded by Stearns and Curtis King, was also a 1st Round Entry on the 42nd Annual Grammy Awards Nominating Ballot (for Best R&B Song-Category). Her recent commercial release is UP, UP, UP IN THE SKY, that she recorded with The Big Bangers (Clara Barton Green, Matt Gordon, Eric Vetter). The song is available on iTunes and CD Baby. It's one of only ten official International Year of Astronomy songs (IYA2009). Her musical ALL THE WORLD'S A STAGE was one of the Best of Fest winners at The 3rd Annual Midtown International Theatre Festival. Theatrically, Donna is also an actor and a proud company member of ShakespeareNYC. Donna and her husband Jason Kendall have also been producing Shakespeare Saturdays readings at The New York Public Library, Inwood Branch for the past 5 years. Visit www.DonnaStearns.com for more information and to hear music clips. Thank you Mark, Jerry, the entire cast, and Jason.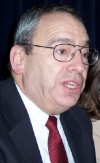 Dr. Mark Littmann, Playwright
Mark Littmann grew up in St. Louis and earned degrees at MIT in chemistry and literature, Hollins College in creative writing, and Northwestern University in English. At MIT, two of his plays won creative-writing awards.

Mark then became the first director of the Hansen Planetarium in Salt Lake City. Over the next 18 years, the wrote, directed, and produced 35 planetarium programs, most in play-like form, including the first science fiction shows and the first shows on archaeoastronomy. He received the first two awards in the planetarium field for distinguished service. Some of Mark.s shows are still performed worldwide. Mark.s books include Totality: Eclipses of the Sun; The Heavens on Fire: The Great Leonid Meteor Storms; Planets Beyond: Discovering the Outer Solar System; and Comet Halley: Once in a Lifetime. Planets Beyond won the Science Writing Award of the American Institute of Physics. Comet Halley won the Elliott Montroll Special Award of the New York Academy of Sciences. Both were also chosen by the Astronomical Society of the Pacific as Astronomy Books of the Year.

In 1991, Mark joined the University of Tennessee faculty as Hill Chair of Excellence Professor of Science Writing. He developed and coordinates the Science Communication Program and teaches three different science-writing courses in the School of Journalism & Electronic Media. He also teaches astronomy for the Department of Physics & Astronomy when times permits.

Mark and his wife Peggy have two grown children, Beth and Owen.

They are deeply grateful to Donna Stearns and Jason Kendall for producing this reading of Minding the Heavens, and to Jerry Marco, director, and actors Megan, Jonah, Everett and Alexis for their efforts to bring to life the true story of Caroline Herschel, the first woman to be a professional astronomer.