---
Visit my new page!
---
Home
---
Stargazing in NYC
---
Media
---
About Jason
---
Contact
---
The Historic Inwood Star Fest
---
Star Party with Dr. Michio Kaku
---
The Transit of Venus
---
Curiosity Landing Party
---
Galileoscope
---
The Official IYA Theme Song
---
---
Follow me on Twitter
| Calendar | 2015 | 2014 | 2013 | 2012 | 2011 | 2010 | 2009 | 2008
Please come visit my new page at www.jasonkendall.com
Impromptu run to the top
March 17, 2010
Last night was great. After about 9 days of clouds and heavy rain and big storms, the clouds parted and gave us a perfectly clear night. I got home from work at 7:30, and just started the ball rolling. Alerts went out, and Rob and Lorraine responded. I went ot get the stuff from the storage unit, and determined to get going fast. Fast is relative here, because it took about 30 minutes to get there, pack up and leave. I left the MMS at 8:47. Rob met me an the street, and we talked about life, the universe, coconut water and exercise balls on our way. We wondered about the damage to the parks due to the intense storms and rain recently. Upon arrival at the entrance at Payson and Beak, we walked a ways in and were dainted by a large tree that had fallen across the path just as we were to turn North. It was an impasse. But not to worry. I set up right there.
It was not easy to collimate the scope, and there was a little bit of stray light from the bottom of the hill, but if this is any indication of the upcoming Fort Tryon with lights out, then we'll be fine up there. After a bit of wiggling around to set up, we were able to see M38 in Auriga with good clarity. I scanned the sky in that area and was impressed at the views. It was going down to about magnitude 10 in the scope. As usual, mars was too bright for the scope and caused internal reflections. The Obsession is better for the Deep Fuzzies. But we got a good view of Saturn. Not the tops, but then that is not the specialty. It is really the clear star fields that jump out.
M38 drew me back again and again. It was low in the West, where the skies were clearest. We couldn't see a cloud to the West for maybe 20 miles; at sunset there were absolutely no clouds at all. I let Rob and Lorraine prowl with the scope. I realy encouraged Lorraine to try it out. Gotta get her over that trepidation! She's ready to bring out her 6" to the parks. Orion was in the trees and over a few streetlights, and even so, we were able to make out 4th magnitude stars for the Globe At Night campaign.
The highlight to me was grabbing the M81/M82 pair in the same view. These twe galaxies looked like they did out in the Poconos with the 6" Dob in the middle of winter. I really am chomping to take the 15" out in the field for a long night of enjoyment. But M81 and M82 both showed hints of structure, and the narrow shape of M82 was clearly evident with just the beginnings of structure to be seen. And that was through the trees. I really hope that Saturday it stays clear. I want to go up to the top and check this out again. The faint patches are now what I am after with this telescope. Now to learn the Argo Navis and the StellarCat.
I finally trundled into bed at 1:00AM. Donna was asleep, and Phoebe The cat just looked at me with a yawn. I called in for a comp day after the past weekend's huge power outage and complete lack of sleep. What a weekend.
M81 and M82 as seen in VERY dark skies with good astrophotographic equimpent.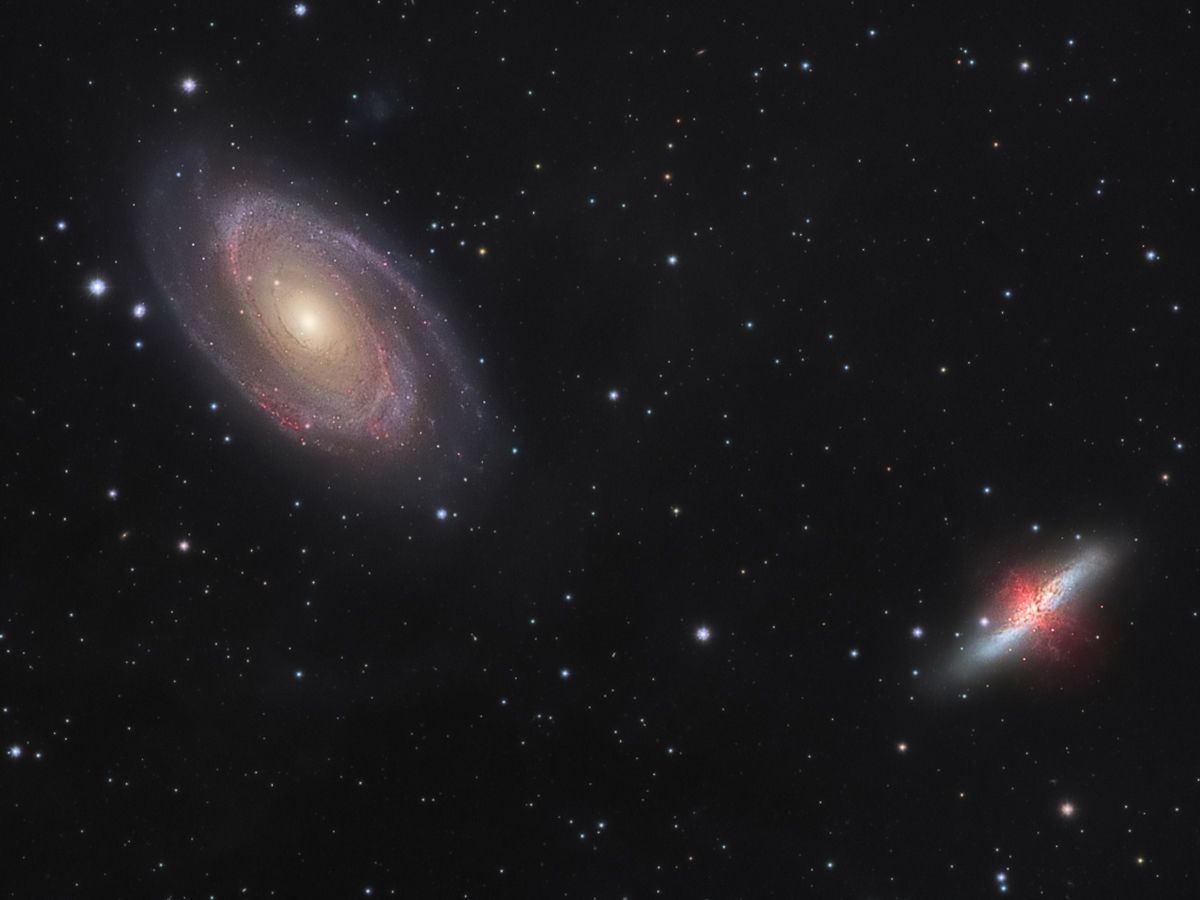 CREDIT: Rainer Zmaritsch, 2008
At a distance of only 12 million light-years, the M81 group is one of the nearest galaxy groups to our Local Group.
This image shows the spiral galaxy Messier 81 (left) with its irregular dwarf satellite galaxy Holmberg IX and the starburst galaxy Messier 82 (right). A few tens of million years ago, a close encounter occurred between M81 and the irregular galaxy M82, deforming M82 to its present distorted shape - hence the name "Cigar Galaxy".
The red jets visible in M82 are the brightest parts of the so called infrared excess making M82 the brightest galaxy observable in infrared.
The red regions in the spiral arms of M81 are emissions from interstellar dust heated by blue stars from the surrounding star formation regions.
---
---
About Jason Kendall
I am currently adjunct faculty at William Paterson University teaching astronomy. I hold a Master of Science in Astronomy from New Mexico State University. I am also a board member of the Amateur Astronomers Association of New York. Since 2008, I have led the Inwood Astronomy Project which brought over 200 events of stargazing and public astronomy outreach to upper Manhattan, including the historic Inwood Star Fest, where Inwood Hill Park lights were turned off as part of the 100 Hours of Astronomy event in IYA2009. This was the first time in New York City history when park lights were turned off for an astronomy event. I've also focused on park safety due to an uptick in sexual assaults in Washington Heights and Inwood during 2011. I've worked to make our parks safer by encouraging public use of parks at night through night-time events with Park Rangers. I have led numerous "starwatching parties" and astronomy events in New York City, New Mexico, Minnesota, New Jersey, Connecticut and Texas. I am also proud to have been part of the NASA/JPL Solar System Ambassador Program from 2009 to 2012. It all started way back in the fourth grade by the encouragement of two noted astronomers, Charles Schweighauser and Bart Bok. I saw Saturn through Charlie's telescope at then Sangamon State University on a clear Illinois night, and Bart encouraged me under those stars to study hard to come visit him at Kitt Peak National Observatory. I finally did make it down there about a decade after Bart passed away, and I found the favorite spots in Tucson, Arizona, where Bart and his wife Priscilla would spend when they were not gazing at the stars. Bart and his wife were pioneers in the study of the Milky Way, and their studies of the starforming regions called Bok Globules. It's even in my family. My great-grandfather was a Midwestern minister who used to preach his sermons out under the dark, cloudless nights. He always believed that getting out and experiencing the wonders of the natural world was a central part of being human. My family has always been inspired by his words: "We look up to look within." I hope that you'll join me under the stars or at one of my talks.
Come see what's up in the sky!
Jason Kendall


We look up to look within
---
(c) 2008 Jason Kendall | Inwood Astronomy | MoonBeam.Net | Donna Stearns | Shakespeare Saturdays | First Dance | About | Contact