---
Visit my new page!
---
Home
---
Stargazing in NYC
---
Media
---
About Jason
---
Contact
---
The Historic Inwood Star Fest
---
Star Party with Dr. Michio Kaku
---
The Transit of Venus
---
Curiosity Landing Party
---
Galileoscope
---
The Official IYA Theme Song
---
---
Follow me on Twitter
| Calendar | 2015 | 2014 | 2013 | 2012 | 2011 | 2010 | 2009 | 2008
Please come visit my new page at www.jasonkendall.com
Saturday, January 9 Stargazing: report
January 10, 2010
It was a great night, even thought the seeing was not spectacular. it was a brutally cold night, with me having 6 jackets on, three pairs of pants, my trusty cowboy hat, and a balaclava for good measure. The air temperature was somewhere around 14 degrees. When I got down to the fields, I was pleased to see Andre there already. He had already set up and was showing off the sky to a nice family who had come out a little under-prepared for the cold. They were in fine spirits, and Andre was showing them Mars, low over the horizon.I arrived, taking about 10 minutes to set up, and it quickly became clear that amateur observing in the cold is brutal. My telescope needs a bit of care and feeding to get it going, and the cold added to my difficulties. But the night paid off well. We eventually had about 12 people show up. Most people had been wanting to come on out, and out they came. We had a nice father-son team who were quite knowledgeable and fun, as well as a romantic couple out to see the stars. Melvin and his friend (help with the name Melvin!) were there, great supporters that they are. Rob Mahoney showed up later, figuring it would be just us two, he didn't bring the scope.The highlight of the evening was Mars. At first, the heat from my telescope and from the buildings made the image quite blurry, but after it rose up above, we could easily see the polar ice cap, and make out the Syrtis Major region. The color difference was distinct and easily seen by all. This was in the baseball diamonds with lots of ambient light, with the 8″ scope. The appearance was easily the dull red of Mars, and the darker gray near the South polar region. The image below is similar to what we saw, except the Syrtis Major region had rotated into view. If it were not so bloody cold, it would have been an excellent night to stay out quite late. Perhaps next week, we'll do the hilltop just to get a good view of Mars, even though we would not be able to stay very long.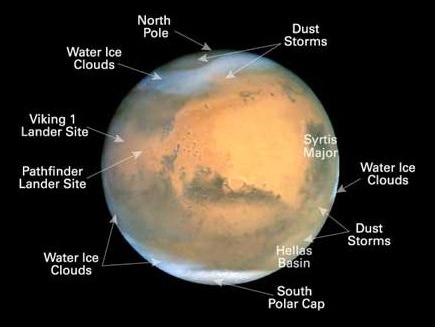 Afterwards, we went to the Piper's Kilt for food and warming up, which was all quite necessary. I had fun drawing the scene on the table napkin.I hope others can come join us in 2010. We'll be doing a LOT of this…
---
---
About Jason Kendall
I am currently adjunct faculty at William Paterson University teaching astronomy. I hold a Master of Science in Astronomy from New Mexico State University. I am also a board member of the Amateur Astronomers Association of New York. Since 2008, I have led the Inwood Astronomy Project which brought over 200 events of stargazing and public astronomy outreach to upper Manhattan, including the historic Inwood Star Fest, where Inwood Hill Park lights were turned off as part of the 100 Hours of Astronomy event in IYA2009. This was the first time in New York City history when park lights were turned off for an astronomy event. I've also focused on park safety due to an uptick in sexual assaults in Washington Heights and Inwood during 2011. I've worked to make our parks safer by encouraging public use of parks at night through night-time events with Park Rangers. I have led numerous "starwatching parties" and astronomy events in New York City, New Mexico, Minnesota, New Jersey, Connecticut and Texas. I am also proud to have been part of the NASA/JPL Solar System Ambassador Program from 2009 to 2012. It all started way back in the fourth grade by the encouragement of two noted astronomers, Charles Schweighauser and Bart Bok. I saw Saturn through Charlie's telescope at then Sangamon State University on a clear Illinois night, and Bart encouraged me under those stars to study hard to come visit him at Kitt Peak National Observatory. I finally did make it down there about a decade after Bart passed away, and I found the favorite spots in Tucson, Arizona, where Bart and his wife Priscilla would spend when they were not gazing at the stars. Bart and his wife were pioneers in the study of the Milky Way, and their studies of the starforming regions called Bok Globules. It's even in my family. My great-grandfather was a Midwestern minister who used to preach his sermons out under the dark, cloudless nights. He always believed that getting out and experiencing the wonders of the natural world was a central part of being human. My family has always been inspired by his words: "We look up to look within." I hope that you'll join me under the stars or at one of my talks.
Come see what's up in the sky!
Jason Kendall


We look up to look within
---
(c) 2008 Jason Kendall | Inwood Astronomy | MoonBeam.Net | Donna Stearns | Shakespeare Saturdays | First Dance | About | Contact